Join us in our assignment of exposing the spirit of suicide, addiction and abuse. [Read More]
During my time in Alaska I fell in love with the Alaskan people. It's been our pleasure to return to have yearly schools of signs and wonders and, at these meetings, see many of our friends from the villages—some who come from as far as Barrow.
I have seen with my own eyes the need for help, especially to the village teenagers. Maria Krinock has earned a doctorate from The International Miracle Institute and we are honored to endorse her ministry and her work in the villages of Alaska.
God's servant, Dr. Robin Harfouche
ABOUT DR. MARIA KRINOCK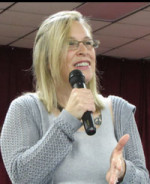 After the Lord Jesus brought Maria out of a life of addiction, suicide and depression, and into freedom, God called her to begin to share His love to the uttermost parts of the earth. Maria Magruder-Krinock answered the call of God in 1997, while living in Anchorage Alaska and began Lifeline Outreach Itn'l. Now her and her husband travel wherever the Lord would lead them holding soul winning crusades with miracles.  Jesus is coming soon! [Read More]
Beautiful Skelatal Miracle
Hear the testimony and watch this skeletal miracle. If you watch all the way to the end you will see God moving her bones in and out of her back underneath her shirt. She is totally healed by the power of the Holy Spirit!
Woman claims I took her cane away...